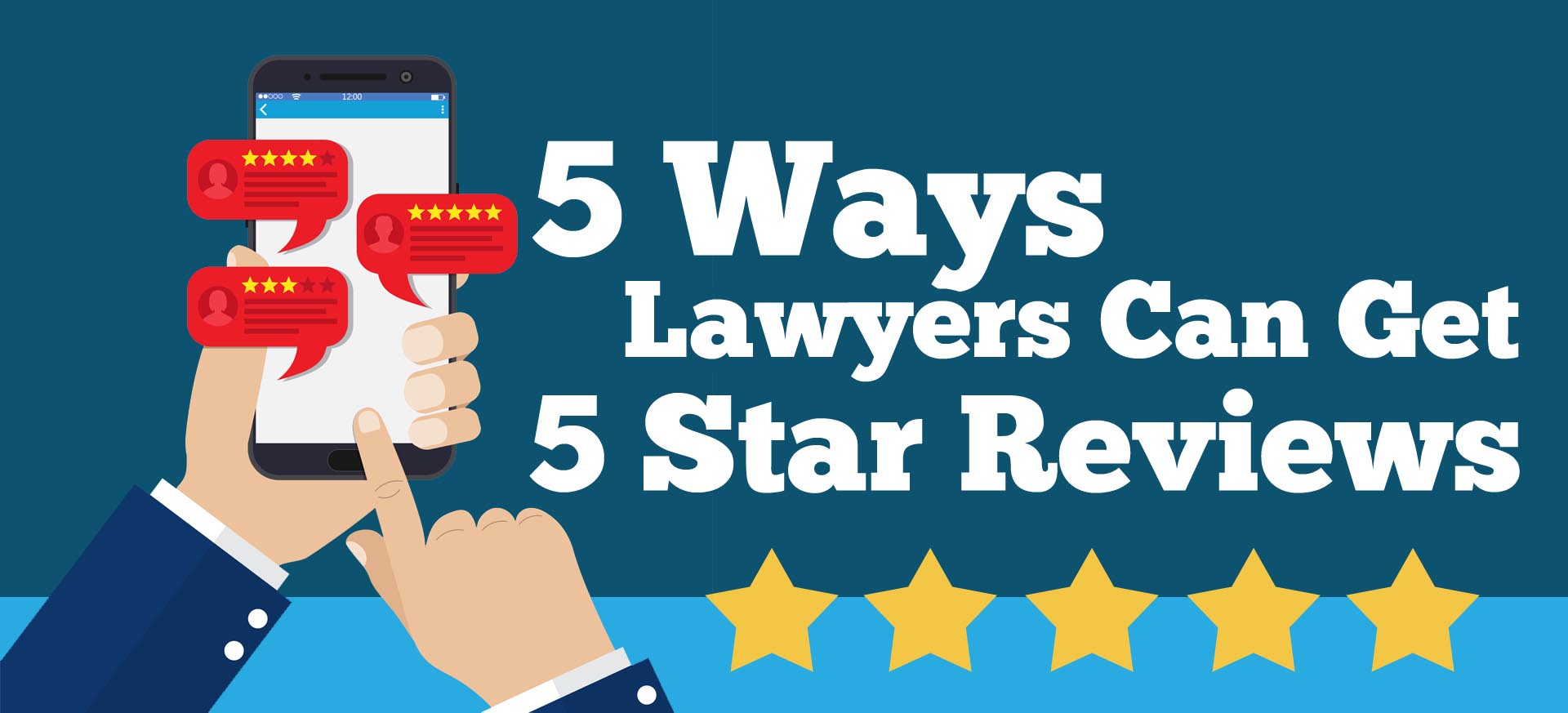 5 Ways Lawyers Can Get 5 Star Reviews
UNDERSTANDING ONLINE REVIEW MANAGEMENT
"You are a phenomenal lawyer …."
"Down to earth and down to business…"
"I HIGHLY RECOMMEND (YOUR LAW FIRM NAME HERE)!"
If you own a law firm, this is what you want to see showing up on review sites regarding the legal service you provide. If you're suffering from a negative reputation online, the best thing you can do to counteract that negativity is to start getting more positive reviews like those above.
The problem is that it can be hard to entice your happy clients to post things about you online. This is usually because they're busy or just don't think it's important.
However, simply by asking, you can get more of your satisfied customers to go online and tell the world how they feel about your firm.
But the real question is…what is the best way to approach your clients to proactively request reviews?
In an increasingly competitive market, it's worth developing a strategy to differentiate your law firm from the competition online. One effective way to accomplish this differentiation is to proactively work towards getting lots of authentic reviews on Google.
Google reviews can benefit both your search engine rankings and your law firm's online reputation. But how do you convince your clients to leave 5 Star reviews on Google?
Here are 5 helpful tips that will help your law firm get more 5 Star Google reviews:
Remember to be personable, professional, kind and hospitable to all clients.
This should really go without saying, but sometime we all need a little reminder how important it is to interact with clients in a way that will promote a positive experience. While it's a well-known fact that unhappy clients tend to be very proficient at leaving negative reviews, we also know that happily clients are not so inclined to write positive reviews about their experience with your law firm. In order to receive 5 star reviews from happy clients, you really need to provide them with exceptional service. If your goal is to promote a positive atmosphere and experience for your clients, then make sure that you engage with them in a manner that will maximize the opportunity for a positive outcome.
Add a "Review Us" or "Google Reviews" page on your law firm website.
The easier you make it, the more likely clients will take the opportunity to write a review for your law firm.
In order to make the review process user-friendly and as simple as possible, we recommend that you add a page on your website dedicated to reviews. We are not talking about a testimonials page or page that displays your online reviews, we are talking about a page optimized for making the process of leaving a review as simple and straight-forward as possible. You can see an example of what we are talking about here. If you are trying to obtain as many Google reviews as possible, you also need to realize that not everyone is going to be familiar with the review process. Its best if you give them options to create a new Google account, write a Google Review or contact you if they need assistance posting a review. Don't assume that everyone has a Gmail account (which is required to leave a review on Google) or that they are familiar with the process – sometimes a little hand-holding may be required, but the results will be worth the effort.
Don't be afraid to ask for reviews from happy clients
Make sure that your happy clients know that you would like them to write review about their experience with your law firm. Don't be ashamed to ask. While not everyone is going to respond to your request, you will be amazed at the number of positive online reviews you can acquire by simply asking for one.
Also, do not limit yourself to one request method. There are really three methods for getting more online reviews. You can ask for reviews, send an email or send a text message. In today's digital age, the best method is a mix of all three, but if we had to choose one, text is best.
Asking for Reviews – Remember – It's all in the presentation. After providing your client with an awesome experience, ask them to give you feedback. It might sound something like this: "John, it's been a pleasure representing you and we are thrilled with the outcome and know that you feel the same way. I have a favor to ask. We are always looking to make our law firm better and provide the best possible experience for our clients. Would you be willing to write a review on Google about your experience with us? To make it even better you could add: "Can I send you a text or email with a link that would make the review process extremely easy for you?
Text Messaging – With almost everyone having mobile internet access, text messaging is quickly becoming the best way to communicate with your clients. Sending customized text messages, requesting a review for your firm gets the best result of any other method by far.
Email – Uncomfortable with text messaging? Send customized emails, in bulk or one by one, to your clients. This is a very non-invasive method that can have great results.
Maintain a database of your happy clients
This may seem like a no-brainer, but you would be amazed at the number of law firms that have absolutely no protocol in place to follow-up with past, present and prospective clients.
Since your goal is to acquire as many 5 star Google reviews as possible, it makes sense to engage with your satisfied clients and ask them to write a review about their experience with your law firm.
The best time to ask for a review is before they leave your office for the last time or immediately after their case is closed. Because their recollection of their experience will be top-of-mind, they will be more likely to write a glowing review about your service and your law firm.
Develop a strategy to request, manage, engage and optimize online reviews
One of the more difficult tasks for any law firm is trying to increase the number of positive online reviews, more specifically 5 STAR Reviews on Google.
In order to establish and maintain a positive online reputation, law firms must have a strategy in place to request, manage, engage and optimize their online reviews. You cannot afford to leave your reputation to chance. Negative online reviews can be extremely damaging to your business and the effects can be immediate, devastating and long-term.
Your online image is NOT just your business website. There's much more to it than that – see what Google says about online reputation:
"Your online identity is determined not only by what you post, but also by what others post about you — whether a mention in a blog post, a photo tag or a reply to a public status update" – Google
The online reputation of your law firm is crucial to your ability to attract new cases and prospective clients. People have learned to believe what they read online these days; it's called "Social Proof" – and that includes any negative or positive information about companies, individuals or organizations.
Whether this content is true or false, the fact remains that it could cause you to lose potential clients to your competitors.  Negative online comments, testimonials and reviews from consumers who have done business with you can directly impact your top line revenue.
Law firms must do everything they can to build a glowing, trusting image online.
This includes monitoring what their clients are saying about them online, as well as implementing strategies to showcase their firms in a positive light.
Once you get these pieces of the puzzle together, rinse and repeat your efforts on an ongoing basis. Over time, your law firm should be able to amass a substantial number of 5 star Google reviews while developing or resurrecting a positive online reputation.